There's no denying that my family loves beef, especially a good crockpot roast beef. I have to admit that I was a little worried they wouldn't like this one as the brandy sauce adds a little sweetness to the flavor, and my brood has always been pretty traditional. According to them, savory goes with savory, like adding homemade enchilada sauce, and sweet with sweet, no combining.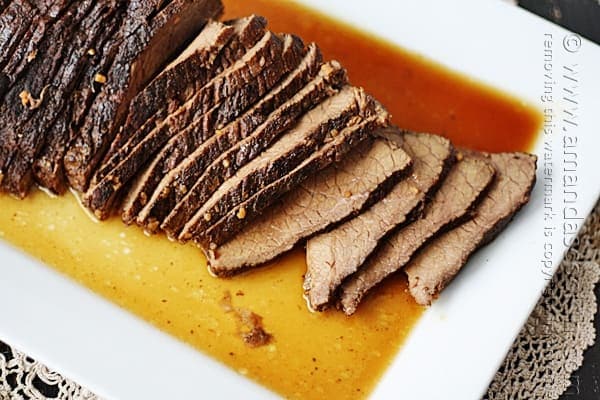 Much to my surprise, they all loved this recipe, just as much as they love my pork sirloin roast! My husband was the biggest surprise at all, actually taking a second helping and telling me how much he loved it.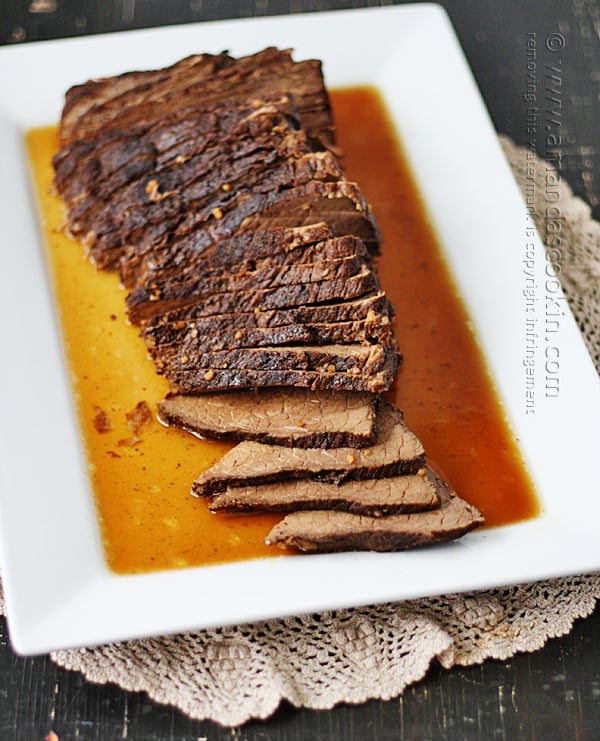 I think one of the things I like best about this dish is that you slice the meat like a roast you would cook in the oven, but it cooks all day in the slow cooker. I honestly can't tell you how much it surprised me that my husband liked this.
RELATED – Love using your crockpot? Try my crockpot macaroni and cheese!
He's also not one for "boozy" meals, so the addition of brandy.. I thought for sure that would turn him off. However, the brandy adds a really nice flavor and there's no alcohol after taste as it all cooks out during the process.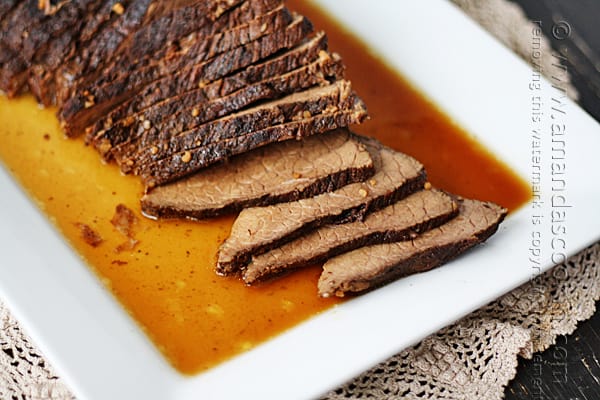 Another one that liked this dish, much to my surprise, was my sixteen year old T.J.. Man, he's almost seventeen in fact! Hard to believe how fast the time goes. I still remember dressing him in adorable overalls and hubby carrying him on his shoulder as we walked the county fair.
Those days are gone, and replaced by driving, long boarding, doing tricks on his BMX bike…
He works at a local cafe on the weekends. We'll often go in for breakfast, sit at the counter and throw wadded up paper at him while he's doing dishes. haha! He's a good sport.
Over the last couple of years he hasn't let me take too many pictures of him. But once we upgraded his phone, he's become the goofy Snapchat selfie king.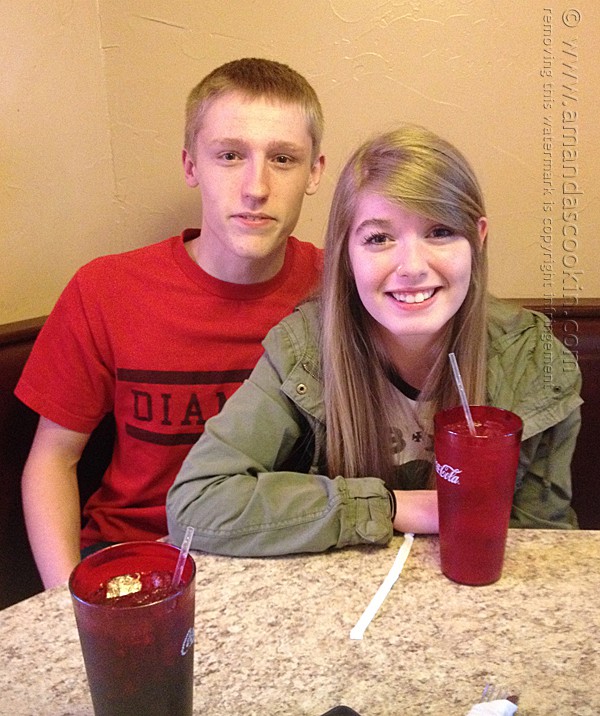 I was able to capture this picture of him and his adorable girlfriend when we went out for pizza.
As a cook, something I've noticed as my kids have grown is that they begin to appreciate a good meal over fast food, especially if you raise them at the dinner table several times per week. My kids would rather have a home cooked meal at dinnertime than order out.
Ordering out is okay once in a while, but think back to your childhood.. Do you have any real memories of eating McDonald's? Or are those memories centered around your mom's meatloaf or fried chicken?
Dinner is a really important bonding meal. We will often sit around the table for a while after everyone's done eating, just talking and joking around. It's one of my favorite times of the day. :)
I hope this roast can become part of your family's dinnertime ritual at least once. Give it a try and let me know what you think. I hope you enjoy it as much as we did!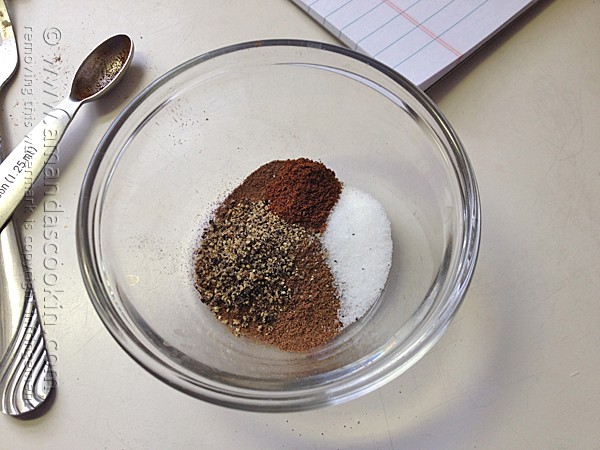 First, go ahead and print out the recipe, there's a printable version below. You'll start by mixing the spices together and rubbing it all over the roast.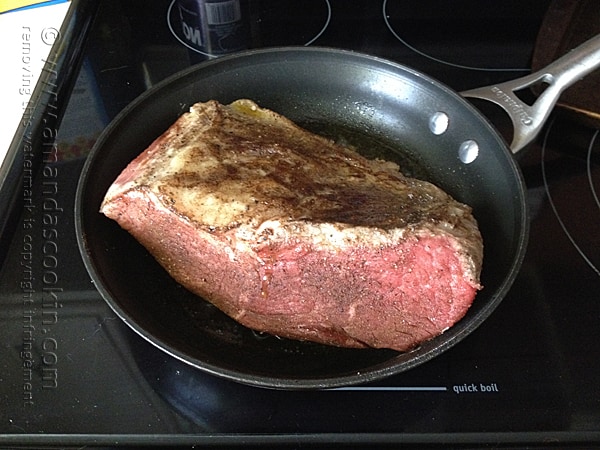 Sear that baby in a skillet of hot oil. All sides. Good and brown.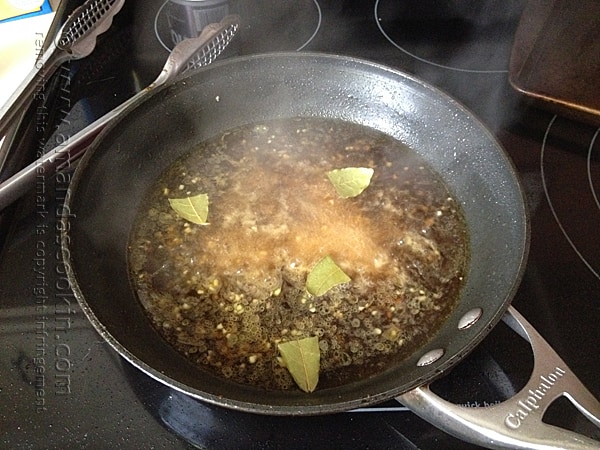 Remove the meat and place it in the slow cooker. Add the liquids (reserve a little, see the full instructions below) to the skillet, scrape up any brown bits because they are full of flavor and you want them in this sauce! Pour it over the roast in the crock.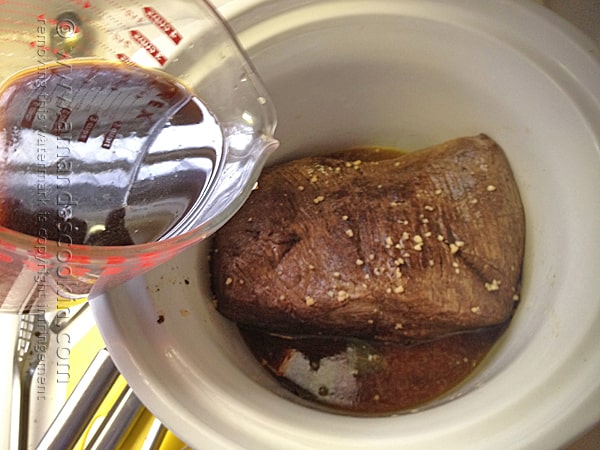 Add the brown sugar and lime juice to the reserved broth mixture and pour that over the roast. Cook on low for 4-6 hours.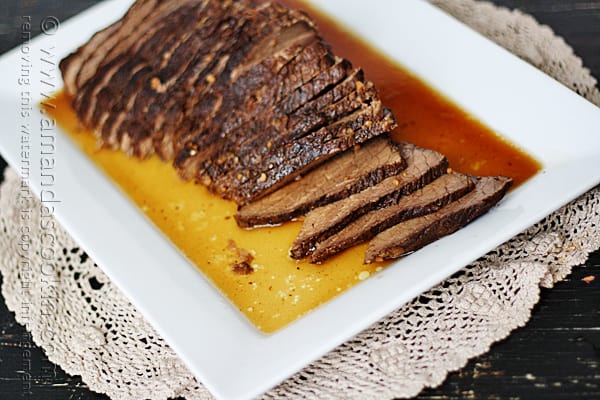 Tent it with foil for ten minutes to let it rest. Slice it and serve. Amazing.
Oh, and in case you're wondering, I recently started using this new CrockPot
. I absolutely LOVE it! You can snap the lid closed for a better seal and for dishes like stews and soups, there's an attachment that stirs the food every couple of hours so you don't have to!
One of the best features is that it's programmable, allowing you to set it ahead of time. So if you need to head to work but don't want the dish to start cooking until two hours after you leave, it's got you covered. I highly recommend it!
When I made this roast recipe I was still using my old white CrockPot, but the Hungarian Goulash recipe I made shows the iStir attachment and talks about it more.
More slow cooker recipes
Looking for more slow cooker recipes? I've hand picked several for you below, but you can browse all the slow cooker recipes here.
More Slow Cooker Recipes
---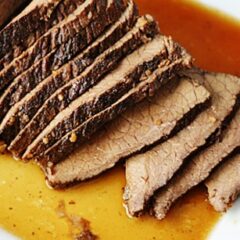 Slow Cooker Roast with Brandy Sauce
IMPORTANT - There are often Frequently Asked Questions within the blog post that you may find helpful. Simply scroll back up to read them!
Print It
Rate It
Ingredients
1

teaspoon

allspice

1/2

teaspoon

salt

1/2

teaspoon

freshly ground black pepper

1/4

teaspoon

ground cloves

3

pound

beef bottom round roast

2

tablespoons

olive oil

1/2

cup

brandy

1/2

cup

beef broth

1/2

cup

brewed coffee

1

teaspoon

minced garlic

about 2 cloves

2

bay leaves

1/2

cup

packed dark brown sugar

1/4

cup

fresh lime juice
Instructions
Combine allspice, salt, pepper and cloves in a small bowl. Rub spice mixture all over the roast.

Heat olive oil in a skillet and sear roast on all sides.

While roast is browning, combine brandy, broth and coffee. Reserve 1/2 cup of the broth mixture and set aside. Add garlic and bay leaves to the remaining broth mixture.

Remove roast from skillet and place in the slow cooker. Remove excess oil from skillet and return to stove. Add the broth/garlic mixture to the skillet. Heat to a gentle boil. Reduce heat to low and simmer for 3-5 minutes. Pour heated mixture over the roast in the slow cooker.

To the reserved 1/2 cup broth mixture, add dark brown sugar and lime juice and stir to combine. Pour over roast in slow cooker.

Cover and cook on low 4-6 hours.

Remove roast and tent with foil for ten minutes before slicing. Remove bay leaves and spoon sauce over beef.
This post contains an Amazon affiliate link, which simply means if you click through and happen to buy something, I will earn a small commission. Thanks if you do!
Amanda Formaro is the crafty, entrepreneurial mother of four grown children. She loves to bake, cook, make kid's crafts and create decorative items for her home. She is a crafting expert and guru in the kitchen and has appeared online and in print publications many times over the years. She is also a craft book author five times over and product developer as well as the owner of
FunFamilyCrafts.com
. You can find her on social media by using the buttons to the left!
Latest posts by Amanda Formaro (see all)